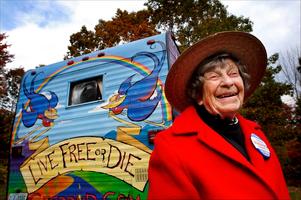 Come Join the Celebration of Doris "Granny D" Haddock at the Unitarian Universalist Church in Nashua NH. This event will be a celebration of the life and legacy of Granny D. 
This event will also be the finale of the New Hampshire Rebellion. An event that begins in Mid January in the Northern part of the state, and ends in the Southern. Larry Lessig will be continuing Granny D's work and marching to end corruption. 

We are still working out the details so updates will be coming out periodically. Please come out and celebrate with us! 

Doris Haddock (January 24, 1910[1] – March 9, 2010[2]) was an American political activist from New Hampshire. Haddock achieved national fame when, between the ages of 88 and 90, starting on January 1, 1999, and culminating on February 29, 2000, she walked over 3,200 miles (5,100 km) across the continental United States to advocate for campaign finance reform. 

Haddock's walk across the country followed a southern route and took more than a year to complete, starting on January 1, 1999, in southern California and ending in Washington, D.C., on February 29, 2000.

Haddock requested a name change of her middle name to "Granny D," the name by which she had long been known. On August 19, 2004, Haddock's request was officially granted by Judge John Maher during a hearing at the Cheshire County probate court.
Guest Speakers include: 

Harvard Law Professor and Activist, Lawrence Lessig

Pulitzer Prize Winning Author and Documentary Producer Hedrick Smith

Founder of Americans for Campaign Reform, John Rauh

Former Lousiana Governor and Presidential Candidate Buddy Roemer

Former NH State Senator Jim Rubens

Governor Maggie Hassan's Proclamation to be read at the event.
Schedule:
3:30 - 4:00PM Film in Fellowship room "Granny D Goes to Washington"
4:00 - 4:30PM Granny D's Band "Tattoo" performs
4:30 - 5:40PM Speakers Present 
5:40 - 6:10PM Food Provided by Riverside Barbeque Company
6:10 - 6:30PM Ice Cream provided by Ben & Jerry's along with cake
Please RSVP. 
WHEN
January 24, 2014 at 3:30pm - 7pm
CONTACT
Japhet Els · · (603) 272-6117